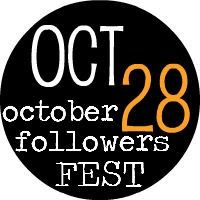 With my own personal Halloween Week coming to a close this morning, I felt like there was still so much that I wanted to share with you.
Thanks to Lindsay at The Rookies' Nest, I stumbled upon the October Followers Fest hosted by Casey Wiegand, Much Love Illy, Danielle: Changing Lanes & Jess: BoHo Baby Bump.
This would not only give me another opportunity to talk some more about Fall & Halloween, but would give me a chance to meet some pretty cool new bloggers… win, win!
So without further ado, how about a Halloween round-up post? I have seen too many wonderful and inspiring projects to count. My bookmarks are literally exploding, and don't even get me started on Pinterest!
So in the spirit of sharing, here are my Top 4 Inspiring Halloween Posts from around the internets.
1. Food // Chocolate Covered Pretzels by Dashing Dish
2. Decor // Rustic-Style Sweet & Spooky Halloween by Hostess with the Mostess
3. Design // Halloween Treat Labels by Design. Wash. Rinse. Repeat
4. Dress // Skull by Ryan Doco Connors and Dina Day
What was the most inspiring thing you saw this week?